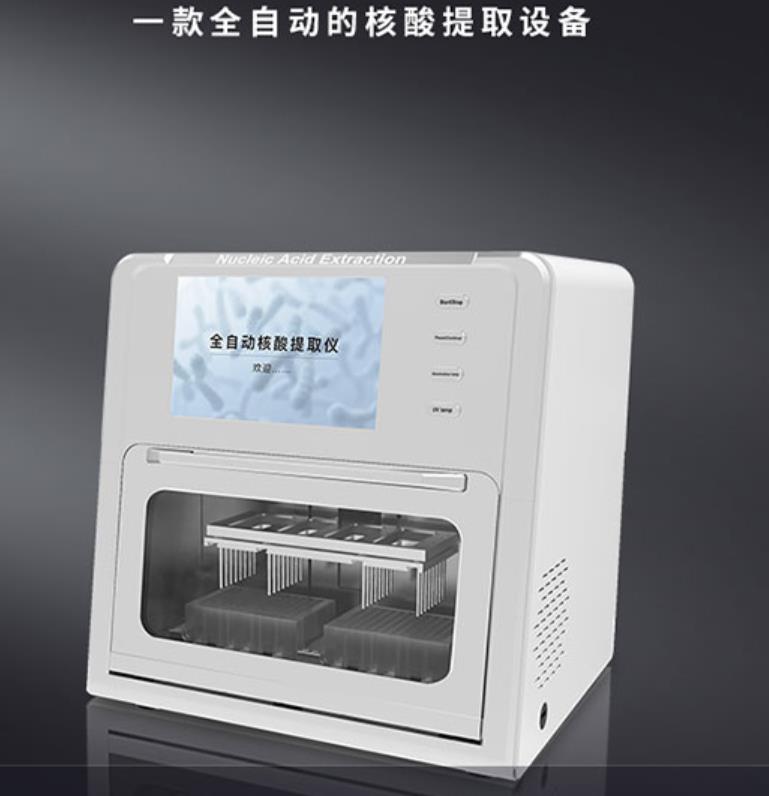 NAE-32 全自动核酸提取仪
NAE-32 Automatic nucleic acid extractor
本产品是一款全自动的核酸提取设备,依靠精密的传动机构以及精密的控制器完成核酸纯化工艺中的磁性分离工艺。
本产品可供分子生物实验室和临床实验室等部门用于分离、纯化核酸。
This product is a fully automatic nucleic acid extraction equipment, which relies on a precise transmission mechanism and an intelligent and efficient controller to complete the magnetic separation process in the nucleic acid purification process.
This product can be used for separation and purification of nucleic acids in molecular biology laboratories and clinical laboratories.
本产品具有以下特点:
1. 整机运行噪音低,工作区全封闭。
2. 快速提取,操作时间短,15~30分钟/次,一次可同时提取32份样品。
3. 温度控制精准独立,根据需求自定义裂解、洗脱温度,通过提高导热效率及受热部位温度均一性,使温度控制更加准确。
4. 强大的程序编程功能,灵活、高效的定义应用,可满足不同试剂要求。
5. 防污染设计,全封闭式设计,内置UV灭菌功能,确保实验室生物安全。
6. 高精度,高得率,根据试剂优化提纯方案,配合温育,实现更高的提取效率,提取的DNA/RNA可直接用于PCR/RT-PCR实验。
7. 具有断电保护功能,意外断电之后开机可选择是否继续运行程序。
8. 内置LED照明功能,可以方便观察运行中的仪器状况。
9. 前门在运行的时候可随时打开,方便随时观察试剂状态以及优化试剂提取方案。
10. 10英寸高清彩色触摸屏,智能化操作,方便用户运行与编辑程序;另外,配备了4个实体按键,可实现一键运行程序,暂停程序,打开照明灯,打开紫外灯,极大的方便了用户操作。
11. 具有用户管理系统,每个用户可以单独管理自己的提纯程序,防止不同用户之间的交叉操作。
12. 可以根据需要编辑多个运行程序,仪器具备大存储空间,可存储程序大于5000个。
13. 试剂开放,可应对市面各类磁珠法核酸纯化试剂盒。
14. 整机稳定可靠,可持续不停机运行24小时以上。
15. 电机均带有反馈,可防止夹手,机械出现碰撞会立刻停止运行,并及时上报错误,能够有效保护机械结构。
16. 带有排风扇,可以加快磁珠的晾干,缩短提取时间。
17. 仪器内置开发者模式,用于试剂研发公司更加方便的调试,以及适配机器。
1. The whole machine has low operating noise and the working area is fully enclosed.
2. Fast extraction, short operation time, 15~30 minutes/time, 32 samples can be extracted at one time.
3. The temperature control is precise and independent, and the pyrolysis and elution temperature can be customized according to the needs. By improving the thermal conductivity and the temperature uniformity of the heated part, the temperature control is more accurate.
4. Powerful program programming function, flexible and efficient definition of application, can meet the requirements of different reagents.
5. Anti-pollution design, fully enclosed design, built-in UV sterilization function to ensure laboratory biological safety.
6. High precision, high yield, according to the reagent optimization purification plan, with incubation, to achieve higher extraction efficiency, the extracted DNA/RNA can be directly used in PCR/RT-PCR experiments.
7. With power-off protection function, you can choose whether to continue running the program after an accidental power-off.
8. Built-in LED lighting function, you can easily observe the condition of the running instrument.
9. The front door can be opened at any time during operation, which is convenient for observing the status of reagents and optimizing the reagent extraction scheme at any time.
10.10-inch high-definition color touch screen, intelligent operation, convenient for users to run and edit programs; in addition, equipped with 4 physical buttons, which can realize one-key operation of programs, pause programs, turn on lights, and turn on UV lights, which greatly facilitates users operating.
11. With a user management system, each user can individually manage their own purification procedures to prevent cross operations between different users.
12. You can edit multiple running programs as needed. The instrument has a large storage space and can store more than 5000 programs.
13. The reagents are open, which can cope with all kinds of magnetic bead method nucleic acid purification kits on the market.
14. The whole machine is stable and reliable, and can run continuously for more than 24 hours without stopping.
15. The motors are equipped with feedback, which can prevent the hand from being clamped, and the machine will stop running immediately in case of collision, and report errors in time, which can effectively protect the mechanical structure.
16. With exhaust fan, it can speed up the drying of the magnetic beads and shorten the extraction time.
17.The instrument has a built-in developer mode, which is used for more convenient debugging of reagent R&D companies and adapting to the machine.
| | |
| --- | --- |
| 型号 | NAE-32 |
| 处理体积 | 50ul~1000ul |
| 样品通量 | 1~32 |
| 磁珠回收效率 | >98% |
| 提纯孔间差 | CV<5% |
| 板类型 | 96孔深孔板 |
| 磁棒 | 固定32个 |
| 加热温度 | 裂解/洗脱温度:室温~120℃ |
| 振荡混合 | 多模式多档可调 |
| 磁珠大小 | ≥100nm |
| 内部程序 | 可存储>5000组程序 |
| 紫外灯 | 有 |
| 照明灯 | 有 |
| 排风扇 | 有 |
| 操作时间 | 15~30分钟/次 |
| 功率 | 500W |
| 电源适配器 | 100-120V~/7.6A 200-240V~/4.4A 50/60Hz |
| 熔断器 | 100-120V~/10A 200-240V~/6A |
| 外形尺寸 | W.386 x D.439 x H.447mm |
| 净重 | 36kg |
备注:可定做配套模块,适应不同的深孔板
| | |
| --- | --- |
| Model | NAE-32 |
| Processing volume | 50ul~1000ul |
| Sample throughput | 1~32 |
| Magnetic bead recovery efficiency | >98% |
| Difference between purification holes. | CV<5% |
| Board type | 96-well deep well plate |
| Magnetic bar | 32 fixed |
| Heating temperature | Lysis/elution temperature: R.T. ~120℃ |
| Shaking mixing | Multi-mode and multi-gear adjustable |
| Magnetic bead size | ≥100nm |
| Internal procedures | Can store >5000 groups of programs |
| UV lamp | Yes |
| Lamp for lighting | Yes |
| exhaust fan | Yes |
| Operating time | 15~30 Minute/time |
| power | 500W |
| Power | 100-120V~/7.6A 200-240V~/4.4A 50/60Hz |
| Fuse | 100-120V~/10A 200-240V~/6A |
| Dimensions | W.386 x D.439 x H.447mm |
| Net weight | 36kg |
Remarks: The matching block can be customized to adapt to different deep hole plates